Andy Rothstein comments about V-Caps in his guitars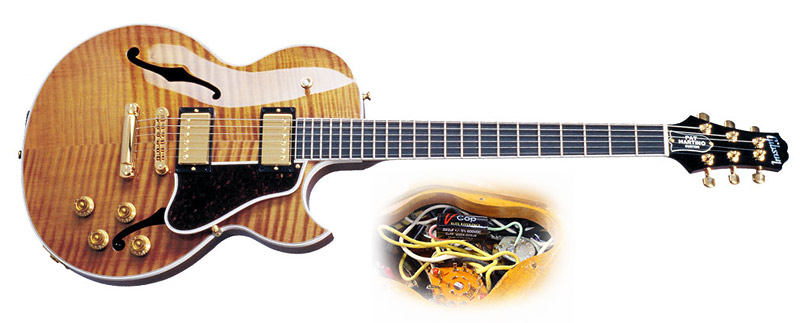 V-Capped (CuTF) Gibson Custom Shop Pat Martino Model
Andy Rothstein is an accomplished recording artist and hardcore Guitar Modification guru who is the owner of Rothstein Guitars. His latest CD "Wit of the Staircase" fuses jazz, with funk and rock stylings. Here's what Andy has to say about his experience with the new V-Cap CuTF series:
"Chris - you really outdid yourself with the V-Cap Elite Copper Foil and Fluoropolymer Film Audio Capacitors. I installed a .022 uf into my Gibson Custom shop Pat Martino model, and the sound is wonderful with very warm overtones. This is, hands down, the most musical and organic sounding capacitor I have heard in an electric guitar. In my Gibson, I find that I can hear even more of the overall character of the mohogany wood body, which is specifically a warm, full sound with good sustain. After playing playing through my old Marshall Super Lead, the .047 CuTF V-Cap brought out the inherent character of my Swamp Ash Tele, without imposing any foreign artifacts. The result is a clear tone with plenty of spank! I am hearing more of the pickups/wood and that is what I'm responding too... I hear more complexity in the tone.
I will be outfitting all of my personal guitars with these new V-Caps.... thats for sure!" - Andy Rothstein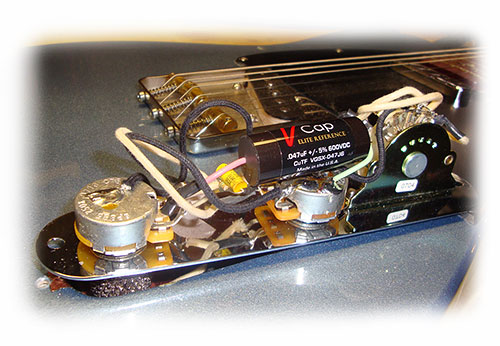 Rothstein Guitars Blue Metallic Tele with V-Cap CuTF series capacitor
Hear Andy play his V-Capped Rothstein Tele
(right click on file to download and play on your computer)
MP3
(Full Band)
WAV
(Full Band)
WAV
(Guitar Only)
* Special thanks to Steve Jankowski of Jankland Recording - an extraordinary recording engineer who mixed and mastered these samples.

READ MORE REVIEWS of the V-Cap Capacitors