Charlie Shapiro, is a music industry veteran with more than 40 years of experience as a producer and engineer, as well as an accomplished musician with decades of music studies with private teachers. He's worked with virtually every recording device ever made, from wax cylinders and wire recorders to multi-track tape decks and digital workstations.
Thom Brown, CEO of Tone Tubby has stated: "Charlie has some of the best ears of anyone I've ever met, and has the engineering expertise to translate the sound a musician wants to hear into real-world products and solutions. He's adept at everything from zeroing in on the differences between different types of speaker magnets to helping bands in the studio sort out the most picky sonic production details."
Charlie recently installed TFTF and CuTF series V-Caps into his personal guitars, and sent these comments, shortly after installing: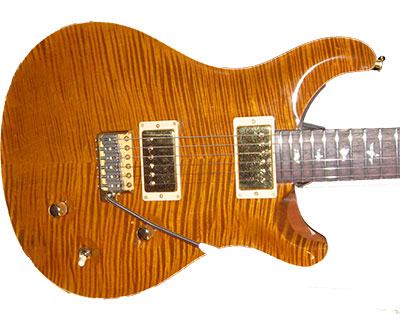 Charlie Shapiro's V-Capped PRS guitar
"I installed the V-Cap CuTF in a Tom Anderson with mini Humbuckers and a PRS with full-sized Humbuckers. I compared the V-Caps to: a ceramic disc, an oil and paper cap - currently in vogue, a Mallory, and a ceramic multi-layer cap. All the same value of .01 uF.

The baseline caps, ceramic disc, multi-layer ceramic, and Mallory all had problems with cut off limiting, and de-resonant and resonant humps in the bass, mid-range, and treble areas of the sonic spectrum. To correct these, apparent flaws to my ears, requires multiple eq devices, each one dialed in to the specific area to bring up or flatten out the sonic spectrum of the guitar sound. Once the V-Cap was installed, I was blown away. When people talk about a sound stage they really do not know what they are talking about.

The V-Cap extends the bass response lower and the treble higher, what is most impressive is that the detail of the low bass, bass, mid-range, treble and air is revealed. String sound like strings. Nickel sounds like nickel and steel sounds like steel. Taking Bruce Fallini's words and framing them as I see music colors... I would say all greens, browns, yellow, orange with a predomination of a copper.

Finally, on this phase, with the pot on full, hard to believe, that is, loading only, the sustain is 3 to 4 times as long as the other caps (except the oil and paper cap), never seen anything like this!!! The cheaper caps active as a cut off limiter and release in an unpleasant stair step fashion.

So there you have it, sound stage defined and Fade to black defined."

- Charlie Shapiro
Charlie further elaborated on his experience with the PIO caps vs the V-Caps, with the following:

Charlie's V-Capped Tom Anderson guitar

"The PIO were both a European version and an American version. The American version is a pure PIO and the European version included CU, paper, and oil.

The pure PIO is smooth with increased sustain over the Mallory, Ceramic disc, and the Multilayer, but very little detail. The European PIO/CU has more detail but the detail is distorted and non-revealing. Both PIO's are nice and an improvement over the Mallory, Ceramic disc, and Ceramic Multi-layer.

But the two mentioned caps lacked and were non revealing of accurate and quantity detail across the entire frequency range when playing technique, string type, wood type, pick-up type, amp type are altered. Little or no sound stage, as it is called.

I liked the PIO's, but I got bored with the PIO's quickly because of the lack of tactile feedback from my ears to my fingers, besides if I just roll off the tone pot with the V-cap CuTF, I could duplicate both PIO and have a smooth roll off of less detail.

The loading characteristics of the PIO on the tone pot full on, were horrible, creating bumps and dips in the sonic frequency curve, whereas the loading characteristics, of the V-Cap was beautiful and full of sonic quality as dramatic as a pick-up change "
Charlie often consults to a variety of companies in areas ranging from MIDI/word clock synchronization for digital audio workstations to the prototyping and field-testing of the classic 1980s Audioarts Model 4100 Parametric Equalizer. Charlie's areas of expertise include replications of sonic finger prints, singing bass lines from the 60's, ambient spaces from the different decades, re-writing of songs, verses, choruses, bridges, into's outro's, and tags, pre-production rehearsals.
Companies often bring Charlie into projects because his ability to hear detail that other's cannot. One example is when he was brought into a MIDI project to solve timing problems he could hear at the millisecond level.
Charlie's current position is Technical Marketing Specialist at Tone Tubby, manufacturers of premium-quality hempcone speakers for electric guitar and bass amplification. His involvement at Tone Tubby includes marketing and sales, customer support, and product development and engineering.
You'll likely recognize many of the artists who use Tone Tubby products, a veritable who's who of 'Guitar Heroes'.
Shapiro resides in the Marin/Sonoma County area of California.
READ MORE REVIEWS of the V-Cap Capacitors