Bottlehead Customs Linestage and Phono Preamp with TFTF series
Here's what Hank Murrow has to say about his experience with V-Caps installed throughout his custom-built phono preamp, linestage and 2A3 amplifier:
"The units have all smoothed out nicely now with 100+ hours on them. Remember, the entire system is V-Capped from phonostage to 2A3 amps (TFTF, CuTF and OIMP series). I am using them with Omega Super 5 loudspeakers, so a definitive report must await the resurrection of my main system which consists of 10" Focal Kevlar woofers, each in concentric Transmission lines to 80Hz, where the Marchand 24Db/Octave Xover passes the signal to double Vifa 5' mids in concentric T-lines, and then to Linaeum bending wave tweeters around 2800Hz. So far, great soundstage with depth, and reaching well beyond the Omegas. Everything sweet sounding finally."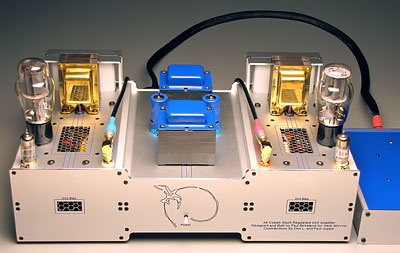 Bottlehead Customs 2A3 Amplifier
Given the extraordinary amount of time, effort and resources put into this unique project, I was curious about Mr. Murrow's background, and fascinated by the journey that led to these beautiful components. Mr. Murrow's response to my inquiry is below (published with his permssion):
"I grew up during the Forties in a home filled with music. From the time I was 14, I built several Heath and Dyna tube-amps and preamps, and designed & built my own 'voice of the theater' and later, transmission-line speakers. Remember, this was still the time of Mono!
I studied piano from the age of six, but it did not really animate me until I found an Opera singer turned voice and piano coach named Pilar Teague, when I was 14. She taught me to sight read and improvise at the piano. We also played the piano concerto literature, alternating between orchestra and solo parts- a wonderful exercise in musical communication.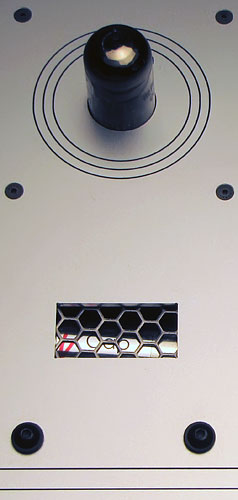 V-Cap OIMP series in Bottlehead Customs Linestage
Attending graduate school in art meant selling my audio equipment and my beloved Ducati Diana motorcycle. Years followed, and transistor stuff allowed me to listen to music, even though it failed to bring back the feelings of those days in the music room with Pilar Teague.
Flash forward 50 years, and encouraged by the folks at Bottlehead and the biennial VSAC Conferences, I began collecting parts to build a 'final music system', with MagneQuest cobalt, nickel, and iron transformers in the starring roles. Busy in my work as a potter, and doubtful of ever getting the soldering iron hot, I asked Paul Birkeland of Bottlehead Customs to build my dream system. He responded with enthusiasm and incredible craftsmanship.
When Paul asked what kind of caps I wanted to use, I said "The best!". So he contacted you to get the CuTF, OIMP and TFTF caps for the entire signal chain; from phonostage, through linestage, to the single ended 2A3 amp. I may even retrofit my OPPO BDP-83 SE with V-Caps if Paul can make them fit!
I love re-visiting my mint collection of 1800 vinyl treasures. For instance Youri Egorov playing the Schumann 'Kreisleriana' was thrilling a few days ago... my fingers playing along on the dining table with Youri. Ivan Moravec's rendition of the Beethoven fourth piano concerto on a Connoisseur Society disc was alternately limpid and muscular, with so much space around the instruments... exactly as I imagine the composer intended. Mahler's 'Das Lied von der Erde' by Bernstein & Fischer-Dieskau was spacious and beautiful to the point of tears- stunning music, coming out of black silence.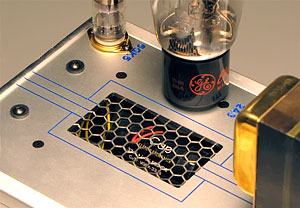 V-Cap CuTF series in Bottlehead Customs 2A3 amp
Even the digital stuff sounds like music now. When I listened last night to Dr. John and Odetta singing on the CD, 'Strike A Deep Chord', I heard detail and micro dynamics just as amazing as I had when listening to the same disc on Jon Tucker's 45 amp with MQ iron back in 2001, at VSAC II. When the volume was turned way, way down, the soundstage remained wide and deep... full of detail and space, while ambient noise was kept at bay. That experience is what ultimately impelled me to have this system built by Paul, and it delivers the same thrills. Suffice to say that I am extremely pleased with the CuTF, OIMP, and TFTF caps used throughout my new system. Paul was right on the money when he said, 'Well, if you want the best...... I'll call Chris VenHaus and order V-Caps...'.
Chris, thanks for your part in bringing me back to the Music."
- Hank Murrow. Eugene, Oregon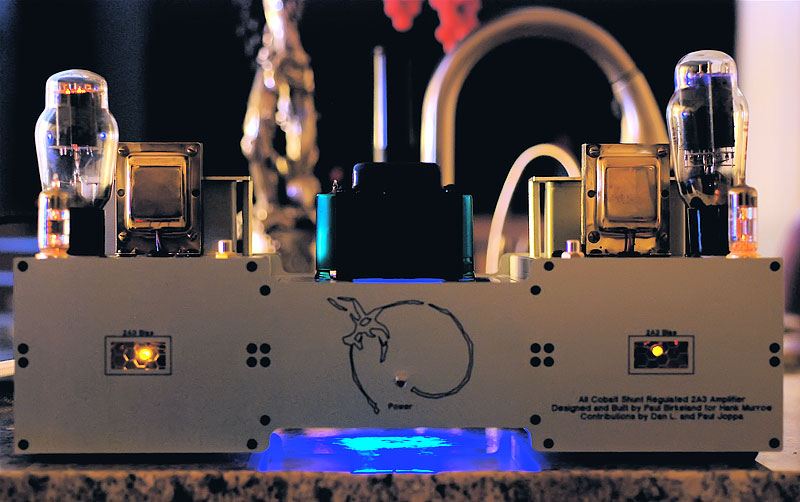 Bottlehead Customs 2A3 amplifer
READ MORE REVIEWS of the V-Cap Capacitors